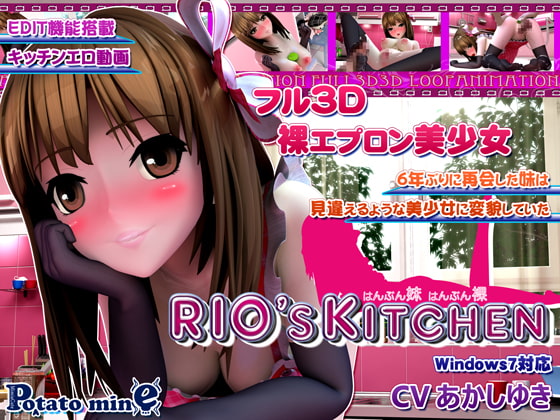 You meet your half-sister Rio for the first time in 6 years.
She take's your jokes too seriously sometimes.
You find her standing in the kitchen wearing nothing but an apron…
* Follow the story from the protagonist's point of view.
Something play to together… Sometimes make passionate love!
*3 different paths to branch off on.
Contains: Heartwarming, Kiss, Fellatio, Sex, Anal Sex,
Titjob, Handjob, Footjob, Masturbation, Fingerbanging!
*10~25 second lengthly loops for increased character
expression and subtle body movement enjoyment!
* Realistic style rendered anime type modelling.
3D characters created with a fusion of 2 dimension and 3 dimension.
* Edit feature implemented.
You can compose the movies in the order
you wish for your own custom sex scene!
CV: Akashiyuki
Fully voiced!
61 base videos + 57 variations = 118 total!!
1280×720 video resolution (Half HD)
Circle: potato mine
Release: Apr/14/2017
File Format: EXE
Genre: Breasts, 3D Works, Foot Job, Breast Sex, Blowjob/Fellatio, Younger Sister, Apron
File Size: 2.85GB
Download